This article appeared in the October issue of The Laurel of Asheville:
"The healing properties of tea, salt, and sound will combine to create an hour of bliss in the Asheville Salt Cave beginning next month. "A Tea Journey in the Salt Cave" is a special session that helps participants cultivate their relationship with the Earth and its diverse cultures.

The experience will include a tea class and tasting led by Dobrá Tea's Andrew Snavely and Lindsay Thomas, Native American flute music by Geri Littlejohn, and a guided meditation and introduction to the salt cave surrounded by mineral salts and water features. Participants can choose to relax on zero-gravity chairs, or on pillows and blankets.

"We will be sharing locally harvested herbal teas, and teas from around the world," says Andrew. "Each 'Tea Journey' is unique, with teas chosen not only to showcase the range of flavors, fragrances, and sensations but also chosen to reflect the time of year. Some may taste salty, others roasted or floral."

"As the participants sample the teas, I offer songs inspired by the teas themselves," says Geri, "utilizing the water features in the salt cave that help to deliver the minerals and elements into our bodies for healing as part of the soundscape… The improvisational music is inspired by that pour, by the present moment. It becomes another form of tea ceremony."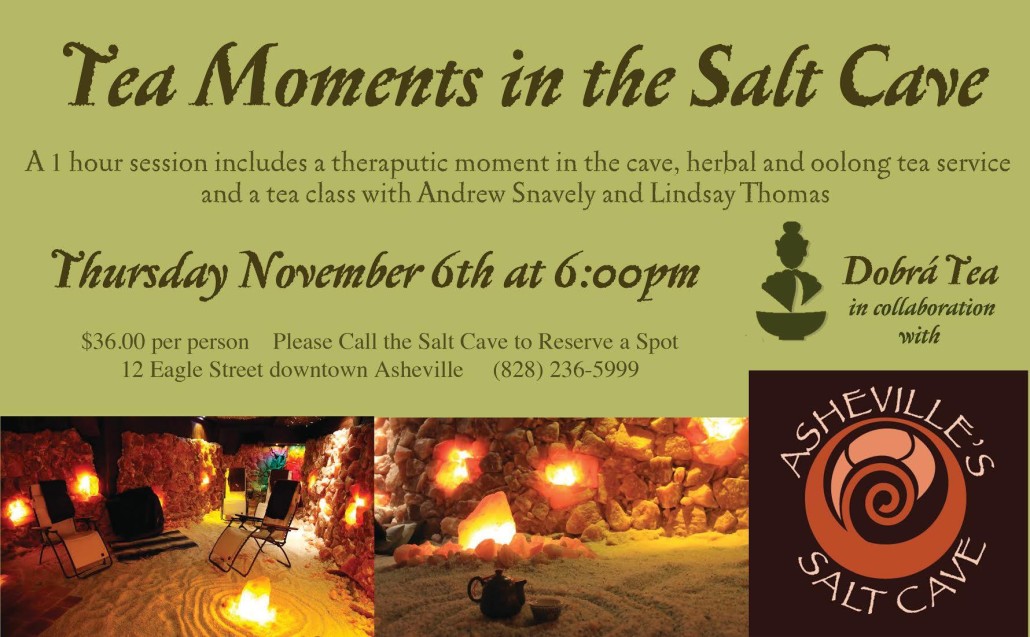 There will be four opportunities to experience this journey: November 5 at 6 p.m., January 24 at 3 p.m., February 11 at 6 p.m., and March 20 at 3 p.m.
Advance reservations ($36 per person) and payment are required.
For more information, and to reserve your space, call Asheville Salt Cave at 828.236.5999.